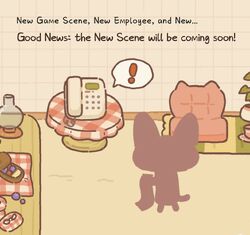 The Takeout is one of the upgrades available for the restaurant. It is located on the right side of the Kitchen. The player can buy Facilities and Wallpapers to customize it.
In this area, you will find the Signature Store, where you can buy wallpapers, special facilities and mementos.
Unlocking

[

]
The Takeout can be unlocked for

300,000 when the Restaurant rating has reached

3,000.
Tutorial
The Forest Association will provide us with equipment and manpower. In this difficult time, we should expand our takeout business
Everybody needs something. Order some goods from the Shelves first.
Takeout orders are in the phone messages. Complete the orders on time to earn a lot of profit.
Tate has started on the delivery. You will be able to claim the reward after he finishes delivering.
Work hard! I'll leave the rest to you.
Staff

[

]
The Takeout is where Delivery Boy Tate, Delivery Girl Kate and Support Chef Meow exclusively work.
Orders

[

]
A maximum of 21 orders are possible every day. Orders are purchased by customers and give a different amount of

Bells or

Stars depending on item, quantity and item quality.
The

Bells can be used to buy items from the Signature Store.


Items
[
]
There are 40 available items for delivery. They can be obtained by purchasing any cabinet or refrigerator and opening them to exchange flowers, fish or

Cod. The portions available are refreshed hourly.
| Item | Description |
| --- | --- |
| Teddy Biscuit | Bite-sized crackers that are perfect for children. |
| Strawberry Biscuit Sticks | Strawberry-flavored cookies that you can dip. |
| Strawberry Jelly Drink | Strawberry jelly that you can drink! |
| Blueberry Jelly Drink | Blueberry jelly that you can drink! |
| Spicy Strips | Spicy, chewy, and full of childhood memories. |
| Corn Snack | Both fun and delicious! |
| Chocolate Biscuit Sticks | Chocolate-flavored cookies that you can dip. |
| Self-Heating Hot Pot | For friends who love hot pot, but don't like going out. |
| Strawberry Candy | Rich strawberry juice, it's sweet but not sickening. |
| Ring Candy | Feels as though there will be a ceremony. |
| Item | Description |
| --- | --- |
| Fresh Milk | Fresh and healthy milk from a quality source. |
| Cola | A chubby geek's favorite drink. |
| Strawberry Milk | Delicious strawberry-flavored milk. |
| Orange Soda | Full of juice and bubbles. |
| Coffee | Uses the finest coffee beans. |
| Yogurt | Traditional yogurt that many brands sell. |
| Lemon-Lime Soda | Especially refreshing. |
| Banana Milk | Delicious banana-flavored milk. |
| Yogurt Drink | Has plenty of probiotics. |
| Strawberry Ramune | Full of strawberries and bubbles! |
| Item | Description |
| --- | --- |
| Strawberry Cone | A crispy cone filled with sweet and tart strawberry ice cream that is too wonderful for words. |
| Taiyaki Ice Cream | Has the same shape as taiyaki. |
| Chocolate Cone | A crispy cone filled with rich, creamy chocolate ice cream that is too wonderful for words. |
| Frozen Dumplings | Dumplings with thin skin and plenty of filling. |
| Frozen Sweet Dumplings | Made with excellent glutinous rice flour and fragnant black sesame. |
| Childhood Ice Cream | Ice cream popular among elementar school students. |
| Popsicle | One half per person, and everyone's best friends forever! |
| Salted Egg Yolk Ice Cream | Salted egg yolk with fresh milk for a different kind of taste. |
| Gold Ice Cream | Ice cream with an air of grandeur. |
| Paw-paw Ice Cream | Refreshes you and very cute too! |
| Item | Description |
| --- | --- |
| Dragon Fruit | They say eating this will make you have to visit the toilet. |
| Watermelon | Should you cut it into pieces, or dig into it with a spoon? |
| Banana | You might get the runs if you eat too much. |
| Durian | Yummy and stinky. |
| Red Apple | Looks like the apple from Snow White. |
| Grapes | Top-tier wine quality grapes. |
| Green Apple | Its green color makes it look really sour, but its actually sweet! |
| Strawberries | One of butter's soul mates. |
| Pineapple | Soaking it in salt water will make it taste even better. |
| Mango | One of the best tropical fruits. |
Class
[
]
Items are rated in classes that represent their quality. Items with higher quality are worth more Bells. The products can be upgraded under the Recipes#Takeout tab.
After unlocked, every item is a

tier, and can be gradually upgraded to

,

,
and

.
Reviews

[

]
Some customers will leave a review after getting their order delivered. Whether it's positive or negative depends on the rate of the food items in that order. It is possible to re-do an order to correct a negative review up until 6 hours after it's received.
It's very rare, but sometimes an order can get a review with photo. To get the review with photo, one order needs to meet 3 conditions:
The order has to be placed by the customer in the photo.
The order must include the mentioned item.
The result after the order has to match the positive or negative review type.
With Update v8.11.0 photo reviews can now be seen in a separate tab called Add Image in the takeout's rating. Add Image is just a bad translation for 带图. It should be Review With Photo or Review With Picture.
Takeout Feedback Review Photos
Photo
Review
Review Type
Customer and item needed
I shared this with Yorkie Pup and he said we'll be friends forever! I'm so happy! This is awesome!
Yorkie Pup with Popsicle
Why was I sent this cola?! It's not what I wanted! Terrible!
Boston Terrier with Cola
It all sprayed out as soon as I opened it. I was almost soaked! I like being cool, but that doesn't mean I want to waste my drink to cool down!
Penguin with Lemon-Lime Soda
This is the taste of childhood and reminded me about the past. After all these years, I think I have changed a lot but yet I seemed to have remained the same.
Abi with Childhood Ice Cream
The food was pretty good. I'll reluctantly agree that it is internet-famous ice cream.
Influencer Flamingo with Salted Egg Yolk Ice Cream
I ordered some takeout today and managed to have hotpot while video calling my son! This made me so happy! Thumbs up!
Glamourous Lady with Self-Heating Hot Pot
The melon I had delivered was cracked wide open!
One-Eyed Papillon with Watermelon
Awful! The bag was ripped, and everything inside fell out. What am I supposed to eat while gaming tonight?
Indoor Toad with Corn Snack
A melted ice cream. Yet another misfortune for our already poor family.
Penniless Toad with Strawberry Cone
This is the first time I've had strawberries! They're delicious!
Polar Bear with Strawberries
All the grapes had fallen off. Terrible!
Old Collie with Grapes
Delicious! Lately my family's been loving this jelly. Today, I finally got some, too!
White Bunny with Strawberry Jelly Drink
The chocolate was especially rich. I want to hoard some more! Oh, by the way, the takeout guy is awesome!
**NEW**
Hamster with Chocolate Biscuit Sticks
So good! I'm sure if I drink it every day, I'll definitely grow taller!
**NEW**
Corgi with Fresh Milk
Facilities

[

]
To see all the facilities in this area, go to: Facilities/Takeout.