During the Halloween event, these items were randomly thrown in the Restaurant by the Halloween Pumpkin. They could be used to make special recipes required by event customers.
They currently are sold by the Mysterious Merchant (once you have unlocked all the Halloween customers he will no longer sell them).
| Appearance | Name | Description |
| --- | --- | --- |
| | Bat Candy | Looks a little like a bat. |
| | Eyeball Candy | This is the first time I'm hearing of making candy in the shape of eyeballs. |
| | Mummy Gingersnap | I hear that this gingersnap was imported from Egypt. Chant loudly and it will move. |
| | Spider Dessert | Adding spiders to dessert, but the sweet threads keep tangling together. |
Banners

During the Christmas event:
You got a special letter wishing you a Merry Christmas.
Special items were randomly thrown in the Restaurant by customers. They could be used to complete three special pictures (a Christmas tree, a snowman and Santa in his sleigh), which unlocked gifts. Gifts were special facilities given for free. These items are currently unavailable but the special facilities can now be purchased in the Menu.
During the Lunar New Year Event event:
You got a special letter for the Lunar New Year wishing you a good Year of the Rat.
Special Mementos were available during the Event.
One Childhood Memory per day was thrown in the Restaurant by customers. They could be used to unlock Blessed Bag gifts which included special facilities and mementos given for free.
The New Year Mouse came to your Restaurant throwing Red Packets on the floor. These gave random prizes -such as Cod, Plates, Bait or Ranking Stars - as well as firecrackers, which attracted customers.
The Rascal came to your Restaurant to annoy your customers and staff. You could chase him away, agree to play with him or discipline him. Playing with him could give you Cod when you won and a special Memento, the Shapely Peach, when you lost.
Lunar New Year Comic

During the Children's Day's event:
You got a special letter delivered by Hedwig.
When gambling with the Card-Playing Mouse,  he'd say "Since you are a child, I'll let you off the hook" and give you a special card along with some Cod and Stars.
Toys were randomly dropped in the Restaurant about once a day by customers, which could be collected to obtain rewards. Rewards were special facilities given for free.
Other limited edition facilities were available for purchase from 6/1 to 6/30.
Appearance
Name
Description
Effects
Cod Under The Sun
It is said that excess cod will be taken away by a hot air balloon if it's not collected on time.
+38
+100,000
Chocolate Dream
Does other food taste better when you eat in there?
+12
Botanical Ferris Wheel
Gumi said it's an amazing tool to grow green plants.
+52
+8/min
Cooling Summer
Summer's a little warm, let's cool it down.
+24
+180
Paw Prints And Chocolate
Gumi's paw prints are on the chocolate.
+6
+4/min
Sweet Kiss
There's always sweet chocolate at the restaurant.
+15
+6/min
Sweet View
When you look out from within, everything you see will be sweet.
+33
+5/min
Rainbow Teahouse
Rainbow teacups and rainbow donuts.
+33
+200
Pastel Love
Made from a sweet secret recipe.
+40
+180
Sweet Dreams
A sweet dream will come true every time a wish is made.
+88
Free wishes +1
Dessert Long Table
Flower viewing and having desserts go hand in hand!
+66+2 Viewing
Ice Cream Mailbox
I don't know where Hedwig hid the letter either.
+37
+440/min
Chocolate Path
Sweet every step of the way.
+77
+10/min
Sweet Fence
Keeps all the sweetness in.
+45
+7/min
Ice Cream Barbecue
Ice cream will definitely melt!
+42
+520/min
Anniversary Celebration 2020
[
edit
|
edit source
]

Hello bosses, the 1st anniversary is coming!
During the Anniversary event: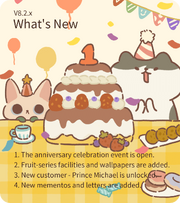 5 new Mementos were added: Air Ticket, Anniversary Cake, Soccer Ball, Apple Hat and Shark Hat.Players can get 2 of them via community redemption code:
Redemption Code(Apple Hat): happybirthday
Redemption Code(Shark Hat): 20200918
Code Validity: UTC 2020-09-18 - 2020-09-30

Fruit-series facilities added. During the event, some of the facildities can only be obtained via anniversary gift box, and they cannot be bought with cod until the event ends. The fruit-series facilities are permanent.
Added a special customer - Prince Michael. (Prince Michael is available for 3 months only from 18/09/2020 to 17/12/2020 and won't be listed in the Handbook.)
Added 7-day Login rewards during the anniversary event.
Anniversary Daily Log In Reward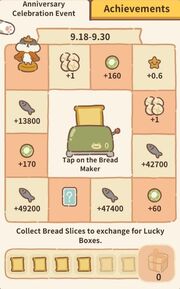 The Lucky Box gives the player a random amount of Cod, Star, Film, and Bell.
Community content is available under
CC-BY-SA
unless otherwise noted.